ALLADVANTAGE


Search. Save. Win.
AllAdvantage is an Internet-based infomediary that enables businesses to deliver highly targeted messages to consumers. AllAdvantage's
international community of active members are rewarded for surfing the Web with the AllAdvantage Viewbar™ software and for referring their friends to join AllAdvantage. Membership is absolutely free, and you do not have to buy or sell anything. Simply join and download your free
copy of the Viewbar™ software.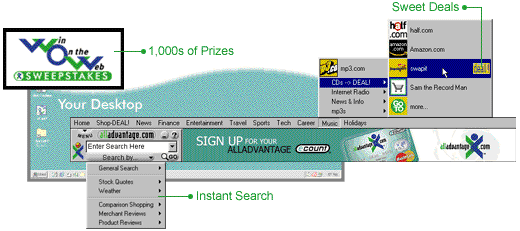 The Viewbar software is your first reward! By becoming an AllAdvantage member and downloading our proprietary Viewbar™ software, you benefit from Viewbar content tailored to your interests, as well as discounts and deals offered by various businesses, and useful Internet navigation tools built into the Viewbar™ software. It only takes a few minutes to download and is totally free. If you are an adult who lives in an activated country, you can download your Viewbar software immediately after joining as a member. If you are a minor, you'll need to submit a parental/guardian consent form prior to downloading the Viewbar software and prior to entering the Sweepstakes


Click here to register




Home
1
3
4
5
6
7
8
9
10
11