SPEDIA


SpediaBar - Surf the Net and have the SpediaBar active on your desktop. Go to your favorite web sites or visit our advertisers' sites if you're interested in their offers. To see a demo of the Spedia Bar, click here.
Instant Cash - You can make over $150 in just one hour by signing up for promotions. There are over 90 promotions to choose from.
Receive E-mails - You can make 5-10 points for each e-mail you receive from our advertisers. You can unsubscribe at any time. Your privacy is fully protected.
Shop Online - Visit our shopping partners for special offerings and promotions. You will be entered in a drawing to win our weekly sweepstakes.
Spedia Games - You can play games and make money while you play.
Refer Your Friends - The referral compensation structure for surfing is 10%, 5%, 5%, 5%, 5% for a total of 5 levels
How does Spedia generate its revenues?
Spedia sells advertising space to marketers and sponsors and distributes most of the revenues to its members.
What kind of ads do you display?
We use your profile to serve you ads that you might be interested in. Our ad server manages the placement of all ad banners. Spedia has a strict policy related to ad banners and other advertising materials, so you don't have to worry about indecent postings. You and your visitors (if you have a web site) will not get frustrated with the ad materials.
Do I need to buy anything?
No, you do not. Spedia membership is absolutely free. We will be rewarding you for using Spedia every month by sending you a check.
How can I enter the Sweepstakes?
Spedia has developed a Shop Online Assistant that allows our members to gain access to a list of well-established e-commerce channels. When you visit our Affiliate Programs, a pop-up window will appear on your screen. To enter the Sweepstakes, please click on the "Go Spedia" button. Every time you visit an affiliate site using one of the provided links, you will get one entry for our 10,000 Point Affiliate Sweepstakes (up to 50 entries per drawing per registered member). Drawings will be administered weekly.
Can more than one family member join Spedia?
All members of a family can join our service independently if they want, no matter that they live at the same address, or share the same computer. (Each member must create a separate account.) Our service is available all over the world for anybody over 14 years of age.
Can I change my User Profile, and how?
Once your register, you can change only some of your user profile data, such as your password and street address. You cannot change your name, country of residence, and demographic and interests information. (This policy is enforced in order to prevent account theft.) You can change all other fields by going to the User Info page of your account. After you've made the necessary changes, you need to press the Change Profile button at the bottom of the page.
Do I need to provide valid information?
Yes. Your must provide your real, valid information in every field. We obviously need your full and completely accurate mailing address in order to send you the check. But we also need your real demographic and interest information in order to be able to display advertising material that is relevant to your interests.
Can I change my user name/password?
You can change your password, but not your user name. You can change your password by logging first and then selecting the 'Change Password' option on the bottom of the User Info page.
When can I start to generate points?
You can join now and start making money (as well as building your referral group) immediately.
What is one ad point worth?
The value of the points changes every month based on our revenues. You can check the latest point value from the "Payout Rate" link on the home page.
How can I check the value of my points?
Members can check their account balance and the number of accumulated points at anytime by clicking here. If the revenues for the month are not collected we cannot assign a fair value to your points, hence the "Total Cash Value" line on your statement will read "unavailable". Please be patient. We work hard to collect the money.
What Are total payable points, total paid points, and current period?
The Total Payable Points section shows the amount of points that have been assigned a dollar value. Under the "Current Period" section you will see the points you've earned for the current period, which are not yet assigned a dollar value. If you have requested payment, as soon as we send you the check, the points from POINTS PAYABLE will be transferred to POINTS PAID.
Is there a maximum amount of points that I am allowed to earn per month?
No. There is no limit in the number of points, or the amount of dollars that you can earn per month.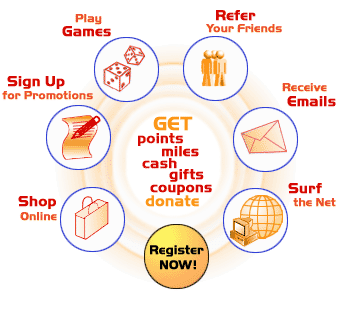 Click here to register now!


What do Fast Points mean?
If you have registered for our Instant Cash Promotions you will be able to make "Fast Points" by visiting those web sites. After you register, the Fast Points will be automatically enabled for the programs that you have registered for. You can make up to 3 Fast Points per CLICK per program per day. You must visit and log into the selected site for at least 1 minute to qualify for Fast Points. The maximum number of payable clicks (Fast Points) per program is 6.
Do I have to click on banners?
NO! Spedia does not reward you for clicking on banners. You accumulate points when you have the SpediaBar active on your desktop and browse the Internet. Please visit our advertisers ONLY if you are interested in their services and offerings.
What do the colors of the bar mean?
The green light means you're earning points.
The yellow color means that you're not getting points at the moment due to:

| | | |
| --- | --- | --- |
| | • | Internet connection error (it is possible that your internet is very slow, or your ISP has some problems) |
| | | |
| --- | --- | --- |
| | • | Server Error |
| | | |
| --- | --- | --- |
| | • | Passive Internet browsing (you have to change URL from your browser window, or by clicking on the banners shown on the Spedia bar). |
The red color means that you're not getting points due to:

| | | |
| --- | --- | --- |
| | • | There is no active browser, or you have a browser different from IE or Netscape Navigator. |
| | | |
| --- | --- | --- |
| | • | You have been inactive for a long time (approximately 3 minutes). If you have a slow Internet connection, you may lose some points during the time the bar is trying to connect to the Spedia server to send information. |
What browsers does Spedia support?
Spedia bar is compatible with the following browsers only:

| | | |
| --- | --- | --- |
| | • | Netscape Navigator 3.0+ |
| | | |
| --- | --- | --- |
| | • | Netscape Communicator 4.0+ |
| | | |
| --- | --- | --- |
| | • | Microsoft Internet Explorer 3.0+ |

What if my browser does not accept cookies?
If your browser is not set up to accept cookies, Spedia will not be able to track your points or grant you access to your account properties. All users need cookie support to successfully accumulate points. Cookies are used to track the user session, to authenticate users, as well as to manage Ad Point profiles. To check if your browser accepts cookies, visit the Internet Options section of your Internet Explorer or Preferences section of your Netscape Navigator.
What is your free domain name service?
If you have a site like: http://www.provider.com/users/~peter we could give you: http://peter.spedia.net. It is simple. Every time someone enters your new easy-to-remember peter.spedia.net, we will automatically redirect him/her to your site. Of course, your users can continue using your current URL.
What name should I register?
You are free to chose whatever name you like for your Web site. Among the best choices for names are: your personal name, your product name, your company name, etc. However, make sure that you do not use names that are unlawful, harassing, libelous, abusive, threatening, harmful, vulgar, obscene or otherwise objectionable. You may not use characters like: "? & @ <> =+% . : ; /" in your name. All names are distributed on a first-come-first-serve basis. After registering your new site name, the old name of your site will still remain valid. Thus you will not lose any of your current site visitors which know only your old site address.
What is Spedia Premier Membership?
Spedia would like to reward its most active members for their commitment and loyalty. Spedia is happy to announce the launch of Spedia Premier Membership Club. Spedia Premier Members will benefit from premium payout rates that are 20%-50% above the standard rate for the billing period.
What does it take to qualify for Spedia Premier Membership?
Spedia will grant one STAR per day to all its members that actively use the SpediaBar to navigate through the Internet for at least two hours per day. You need twenty (20) STARS per month to earn a Premier monthly status and enjoy the benefits for the month. In order to qualify for the Premier membership status you also need to sign up for at least 20 Instant Cash Promotions per month. You can track the number of STARS you have accumulated online using the Statistics page. At the end of the month, Spedia will grant 20%-50% bonus SpediaBar points to all premier members to reward them for their commitment and loyalty.
How does your referral program work?
You can refer as many relatives and friends as you want. The referral compensation structure for surfing is 10%, 5%, 5%, 5%, 5% for a total of 5 levels. We prohibit any unsolicited e-mails and/or postings in discussion groups, bulletin boards, and other public domain groups. There is no limit on the number of friends and relatives you can refer.




&nbsp &nbsp &nbsp &nbsp &nbsp &nbsp
Home
1
2
3
4
&nbsp &nbsp &nbsp
&nbsp
6
7
8
9
10